| | |
| --- | --- |
| Photo by Rob Mazzella | Tony at SoundScape Recording Studio.. |
The Bio of Tony Genovese Jr....
Intro:


Tony started playing drums around the age of 6 and started studying at age 8 for approximately 2 years. At age 13, he studied with author/teacher Frank Marino. In 1990, he began work as a drum teacher for the Long Island Drum Center and is still there to this day. Within the next 2 years, he graduated from Five Towns College with a dual degree in performance and instrument repair. In 1996 Tony toured with a Doors tribute band throughout the Southwest. From 1997-1999, Tony coordinated and ran drum clinics in New York with famous drummers Simon Phillips, Terry Bozzio, and Bill Bruford. Also in 1999, he was interviewed and performed on the Don K. Reed Show on 101 CBS FM and opened for the Village People. Currently, he is a freelance drummer who performs with wedding, jazz, rock, and oldies bands throughout the
year and is currently available for touring and recording.

Influences:

Buddy Rich, Steve Gadd, Neil Peart, Kenny Aronoff, Frank Bellucci, Johnny Rabb, Lou Appel, Billy Ashbaugh, and many more.

Equipment:

GMS Drums, Sabian Cymbals, Vic Firth Drumsticks/Mallets/Brushes
Evans Drum Heads
Alesis DM5 Module

Check back soon for more photos!


Pat Benetar & Tony at the Westbury Music Fair, Long Island, NY August 2002
| | |
| --- | --- |
| Gina Shock & Tony at Westbury Music Fair, Long Island, NY March 2002 | Billy Ashbaugh & Bob from Sam Ash Music surround Tony at Westbury Music Fair, Long Island, NY August 2002 |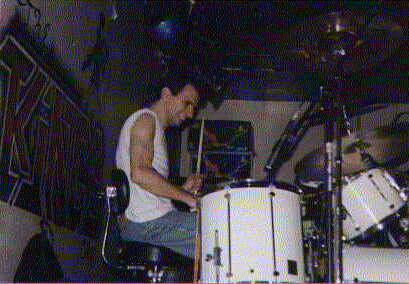 Tony pumped up and giving it all he's got at a recent show with Pink Houses..